Community Update & FAQ About the V2 Transfer
Wednesday, Nov 4 at 16:19
Dear players, today we're having a short community update for you followed by a long FAQ about the V2 transfer. We hope this will help you understand a bit better what challenges we're facing in our development process, why it may take a long time until we can realise your wishes, and most importantly: what the V2 transfer is and why we're always talking about it. We're also gonna talk about the Thoroughbreds and the companies, or more precisely: why those two and most other coding has to wait until we are done with the V2 transfer.
But first, we want to tell you what we've been working on in the last week:
---
🤖 Next Code Update: Player Profiles to V2 🤖
Our next code update will be to transfer the player profiles and the "edit profile"-page to V2. This update was planned for today, but we're having a bit of trouble with the connection between our server and the software we are using for such updates. We think we can fix the issue quickly and are planning to do the update tomorrow, but if it turns out to be a more serious problem, the update might have to wait a bit longer.
After the update, your profile should look almost the same as before, though it might need a little touch-up. The white area on your profile will be slightly smaller after the update because we use the Bootstrap-framework on V2. This framework makes sure that your profile is scalable on mobile devices. This makes it much easier to read any player's profile on mobile devices! We hope that you won't be affected too much.
If you encounter any bugs on the player profiles or "edit profile" page after the update, please follow these steps:
Clear your cache (google how to as it depends on your browser)
Refresh the page (CTRL + SHIFT + R / CMD + SHIFT + R)
Is the bug still there? Report it in the bug reports forum!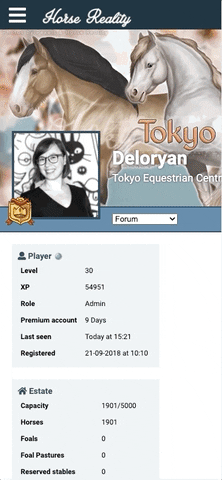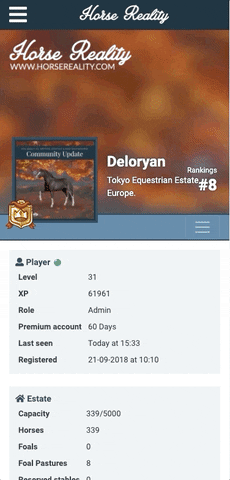 Left: Old version (V1) user profiles. Right: New version (V2) user profiles
---
🐞 Bugfixes 🐞
The following issues have recently been fixed. If the fix didn't work for you, please follow the steps listed above!
⚈ A horse's age was calculated slightly differently on V2 and V1, most noticeably in the foal pastures and conformation shows.
⚈ The foal pastures did not show the gender sign of the foal.
⚈ Some players did not get their 2nd-anniversary milestone despite having played the game for over two years.
⚈ The travelling time in the airport did not visually change in the dropdown when using a 1st class ticket.
⚈ If you wanted to retire a horse with an apostrophe in its name in the retirement home, the apostrophe got messed up in the image preview box.
⚈ The images in the riding school looked a bit off on mobile devices.
⚈ The foal image of the new Icelandic chestnut coat was carrying a bay image instead of chestnut! This is now fixed.
⚈ The mare image of a new Shire Bay coat was missing the tail image.
All of these issues are hopefully now history!
---
❤️ We Have a Merch Webshop! ❤️
Some of you know it already, but we didn't properly announce it yet: Horse Reality finally has a Merchandise store! This is something our community has asked us often about and we've revealed it as our final birthday surprise at the end of our recent livestream. If you have any questions about the store, note that there is an extensive FAQ page in the store itself. We've put a lot of love into each product and hope that it shows! :)
---
✍️ Writing Contest: Next Newspost ✍️
We have finally read all of your entries and, even though you made the decision really hard for us, found our winners! However, we need a bit more preparation time to add those texts to our NPCs profiles and Wiki entries, and also want a bit more space to properly celebrate our winners than we would have in today's news post. Therefore, sit tight just a little longer: Our next news post will be all about announcing the winners of the writing contest!
---
🐴 Changed Names of Foundation Horses 🐴
We have a forum thread where we collect names of foundation horses that should be changed for various reasons. We have now updated all of the names that were collected in there. Please check the forum topic for details - especially Haflinger breeders will notice quite a few changes! A big thanks to all players who helped us track down wrong names and suggested replacements. You are the best!
---
🍂 (Halloween) Backgrounds 🍂
We had a Halloween-themed background in the works, but couldn't get it out in time due to illness affecting our team. We are sorry for the delay. The background has now made its way to our Delta Store, sporting a more general name since Halloween is over - please welcome the beautiful "Colours of Autumn", only available in November! We hope that it, despite the festive fairy lights, can bring some happiness to the ones among you who wished for darker/nighttime backgrounds.
We also decided to change the name of the old "Halloween 2019" background to "Spooky Season", since it was the only background named in the "Event + Year" format and looked a little odd.
---
📞 Contact Page & Asset Package 📞
Our contact page was a bit outdated and we now have updated it with all the right information. Most importantly, we added a marketing asset package containing things like our logotype, game screenshots, and colour charts. This is most interesting for people who want to write articles or create videos about Horse Reality, but especially the logos could also be of interest for anyone who is creating in-game artwork!
---
🤖 FAQ: Let's Talk About The V2 Transfer! 🤖
We know that our community is waiting for us to start working on the unfinished or missing parts of the game. Comments about it reach us every single day, which made us realise that we have not communicated clearly enough what the V2 transfer is that we're currently working on. We have written this FAQ in the hope that it helps to clear up some of the confusion that exists around what this transfer is and why it's necessary.
What is the V2 transfer?
The V2 transfer is the monumental task of writing the game anew in a different programming language, page by page. V1 is what we call our old code, and V2 the new code. The goal is that a V2 page looks almost exactly as the V1 page did, but is written in a new language that works better.
The V2 transfer is the biggest and most important coding project to ever happen on Horse Reality. It may look boring from a player's perspective - all one can see happening is the change of a URL and, occasionally, some bug fixes or QoL updates. But really, the V2 transfer is a crucial step that we need to take in order to later be able to add new features to the game. What we are really doing is to prepare the game for the future.
Why do you do the V2 transfer?
We didn't really have an alternative to the transfer. Over time, our old V1 code became outdated and created many problems that made it really difficult for us to add new features to the game. But Horse Reality is a game in development, many features are waiting to be added, and just leaving everything as it was wasn't an option. But to add new things, the old things need to be working well. You wouldn't add a second storey to a house with a crumbling foundation, but rather fix the foundation first to ensure adding the second storey doesn't make the whole thing collapse. This is basically what we are doing: We are renovating the foundation of our game, so that we are then able to add on to it. We are writing the entire game again in a better, more resilient, less buggy code. Once we are done with this, we are going to have a modern, stable, and secure foundation that we can hopefully quickly and safely add new game features to.
Wasn't V2 the new server?
There is a misconception where some players think V2 is a new server. V2 is not a new server, V2 is new code. We did transfer the game to a new server back in May, which meant a few hours of maintenance time, our then-developer Max running around in a frenzy, and once it was up and running a significant improvement of speed on all game pages. However, compared to the V2 transfer, this was a quick and easy task! Transferring a page to V2 does not mean pressing some buttons or connecting some cables - it's the time-consuming mental labour of writing a previously existing part of a game again, in a new coding language, and in a better-structured way that makes the rest of the game run more stable.
When will you add new features (Thoroughbreds, companies, care, …)?
To understand our answer, one must first understand our problem: Coding is our most valuable resource. Paying our coders is our highest expense and how much of their time we can afford determines directly how much we can get done in the game. Currently, we have a coding company working for us two days of the week. We cannot afford to waste any of their time, because we only have so little of it, while there is so much left to do.
If we were to code a new feature while half of the game is still in V1, it would mean a longer coding time and more resulting bugs, costing us more bug fixing time. Coding the same new feature once the game is already entirely written in V2 would be quicker, which means that more time and money would be left to code new game features. Therefore, only adding new game features once the V2 transfer is over directly leads to us having more game features in total in the same amount of time. That's why we won't do any other code updates before the V2 transfer is finished.
Thoroughbreds, companies, care, … - everything we have promised and anything you may be wishing for can only come to the game after the transfer is over. The only exceptions are the improved competition calculations for all seven disciplines, and once those are finished, the breed-specific and club-specific competitions. That's because we have promised all of them before we made the decision to not work on any other code updates during the V2 transfer, and we want to stick to our promises. We also hope that the releases of those three projects will somewhat sweeten the waiting time until the transfer is over and other completely new features and additions can come.
I have an idea for a really small easy-to-code feature. Could you add it now?
The answer is no. Even the smallest of additions would require our coders to spend their time on it and therefore postpone their ongoing work. Currently, their weekly tasks include transferring a page to V2, working on the improved competition calculations, and fixing bugs that are either too crucial to ignore or caused directly by the V2 transfer. Doing all this is a lot of work for only two days a week, and we really can't stretch their attention any thinner. We can't wait for the V2 transfer to be over so that we finally get to add new things to the game! That's why we're doing everything we can to complete the transfer as quickly as possible - adding any new bits of code in between would go directly against this goal.
But seriously, when will the Thoroughbreds come?
In July, our community voted on whether to add the Thoroughbreds with or without a complete set of their genes. We put this decision to a vote because their artwork was almost finished, but adding all genes (specifically the white spotting variations of the KIT gene) would require additional coding work that could only be done after the V2 transfer. A majority decided that they wanted to wait rather than have the breed added unfinished. This means: First, we need to finish transferring all game pages to V2. Then, we need to update our genetics system to allow for the white spotting variations that are currently not in-game. And only then could we release the Thoroughbreds.
And when will the companies come?
It will be an even longer wait until the companies can come to the game. They are not only a huge coding project by themselves, but also rely on other game features getting introduced first. After all, what's the point of being a horse feed producer while nobody needs to buy food for their horses? After the V2 transfer is over, we can finally start working on implementing all those basic features into the game, and afterwards we can get to work on the companies.
So, when will the V2 transfer be finished?
We're currently putting all our resources into the V2 transfer to get it done as quickly as possible. But we don't know when that will be and won't give any ETAs. How quickly the transfer progresses depends directly on how much coding time we can afford, which in turn depends on the income we get through DP or merchandise store sales. Additionally, small teams like ours get impacted quickly by external events, which complicates long-term planning. In the first half of the year, we were off to a rocky start with global developments influencing our private lives, and then our coder leaving our team and a new coding company picking up the slack but needing some time to get to know our game, team, and code. We managed to pick up the pace in the last two months when the cooperation with the coding company started to run smoothly - most of the pages that have been transferred this year have been transferred in recent months, with a (so far) ever decreasing number of bugs created by the transfer itself. We are quite optimistic about the future, but we also expect that the V2 transfer will remain a topic for quite some time.
What can we do in the meantime?
Code is not everything! We also have other news and updates in stock for you that we're working on behind the scenes. We promise, you won't get bored! Also, don't forget that there are still the few code updates that we are planning to do alongside the V2 transfer: We're currently working on improving the competition calculations discipline by discipline (at the moment still working on Western Reining). After all seven are done, we will start working on the breed-specific and the club-specific competitions.
Things like the V2 transfer often have us curse our situation as a small company running a popular game. We are so motivated to add new things, yet extremely limited in what we can do, and no other way of proceeding but taking one baby step at a time and hoping for our community's understanding and patience. The upside is that we're much more open to our community's contributions than any regular game company could be. We often rely on your opinions and ideas and actively seek them out. Just because our coders can't code any new features yet doesn't mean that we're not thinking about them! And we're currently having plenty of time to think our next steps through while consulting your suggestions and critical discussions in the ideas board. They are a huge source of inspiration for us. Don't underestimate the influence you're having on us in there! If you are waiting for the companies, for example, think a bit about how exactly you would envision them, and then tell others in the ideas board. Chances are we're going to bring them to the game in a quite similar way if we think your idea has potential.
---
🍭 The End 🍭
If you have made it all the way here, please take a virtual lollipop as a thank you for being such an avid reader! Feel welcome to drop any questions or remarks about the community update or the FAQ in the comments, and don't forget to check out our new November-only background in the Delta Store!
Your Horse Reality Team